Bonjour! Comment allez-vous?
Let it snow

...

Let it snow

...

Let it snow

....
Snowflakes
Now it's November. Dah nak masuk
December
dah kan? Nanti dah nak X-mas dah. Kalau pk pasal X-mas mesti tingat pasal
snow
. Pulak tuh baru jer lepas tgk citer lama Sandra Bullock - While you were sleeping. Ada scene yg ada snow. Tuh yg tetiba syahdu ni... tingat snow.....
Rindu nye nak pegang snow.... rindu nya nak tgk
snowflakes
.
The first time snow turun and first time RedBerry tgk and pegang snowflakes masa RedBerry tgh shopping kat Dublin. Masa tuh baru balik dari kelas, pegi jalan2 kat shopping mall kat situ. Sekali semua org dlm mall tuh bising. Rupanye it was snowing!!! Histeria semua org!!! hahahhaha
Kebetulan masa tuh, it was the first time snowing after 4-5 years dah tak snow kat Dublin. Semua org (termasuk mat salleh) pun happy sakan biler nampak snow. Lawak giler. RedBerry ngan my frens lagi la
jakun tahap dewa
kan. Menjerit meluru keluar mall, terlompat2. One of my frens bawak camera. Apa lagi, siap amik gambar sakan. Hahahhaa... sungguh
nostalgia
.
Rindu nyeeeeeeeeeeeeeeeeeeeeeeeeee!!!!
Jom kita usha, reasons naper RedBerry suka winter and rindu sgt snow.
*ZZZZAAAAAAAaaSSSSSSsssss!!!*
# 1
- Beautiful, cold and white winter scenery
Cantek kan? Semua bende nampak
putih
jer. Nampak bersih and sejuk mata memandang. Hahhaa mmg sejuk pun. *grin* Kalau bangun pagi2, tgk kat luar tingkap ada snow, mmg rasa happyy sgt. Rasa tenang jer.
Kalau tetiba snow tuh tebal sgt, mmg ada peluang la nak buat
snowman
. RedBerry tak pernah dapat buat yg besar. Buat yg kecik2 ada la. Coz masa kat Dublin and London dulu, snow takde la tebal sgt. Kalau time tebal pun, sejuk sgt nak lepak kat luar lama. Org Msia la katakan :P
Snow Angel ni best esp kalau lepak kat tgh2 snow ramai2 and buat snow angel ni ramai2. Naper panggey Snow angel? Tgk la gambar kat atas tuh. Kalau kita move kita nye tangan ngan kaki serentak, boleh dapat shape ala2 Angel tuh... nampak kan? Hahaha
comey
giler. Time ni mmg best kalau nak cari alasan berguling2 dlm snow la.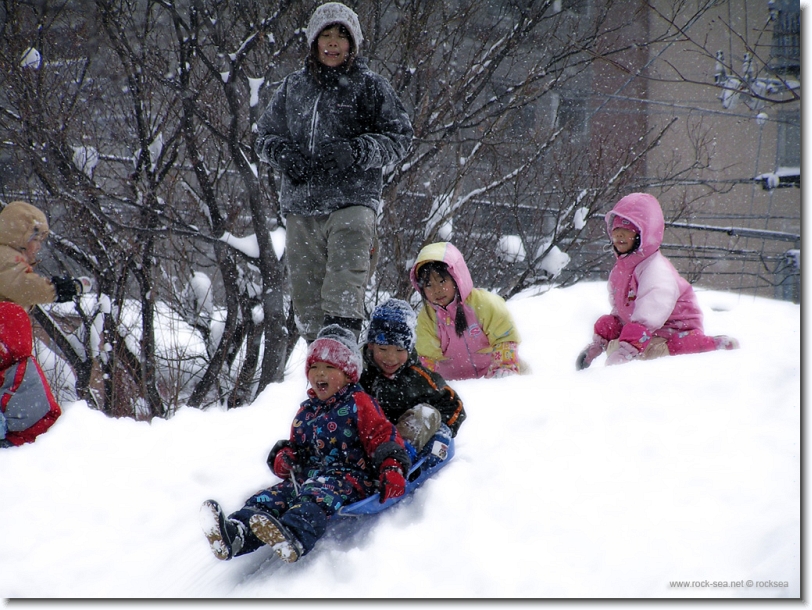 Masa first time sampai Dublin and first time dapat main snow, we all satu batch keluar apartment dalam kul 3 pagi, semata2 nak main snow slide nih. Hahaha giler kan? Kebetulan lak, masa tuh
snow lebat
turun after midnite. Tunggu la dlm a few hours, so that snow dah tebal, ramai2 turun main snow slide. Kalau pk balik, mmg entah apa2 la. Jakun punye pasal kan. *grin* Tapi best!!!
Snow ball fight ni mmg harus lah main kan. kumpul snow dlm tangan, kepal2 kasik bulat... and baling!!!! Baling kena lah tepat kat badan org lain. Perghhhh.... kalau kena kat dada, sakit jugak. Kat padang besar best la main ni, coz boleh kejar2. Ada sekali tuh budak laki baling kat muka RedBerry, terkena pipi... merah menyala pipi! sakit!!! hahahaha Tapi tak marah... c'mon! it's snow fighting anyway. Balas balik la!
#6
- Catching snow on tongue
First time RedBerry tgk snow with my own eyes, and pegang snowflakes with my own hands, RedBerry takleh nak resist from sticking out my tongue to catch the flakes out of the air! Siap terpk, kalau bawka sirap nih best nie... terus buat
ABC
... hahahhaa :P
#7
- Walking in the snow
Paling best kalau snowflakes dah tak turun, tapi jalan penuh ngan snow and masih baru. kalau dah melting tuh tak best dah, jalan jadi
licin
. Kalau silap terpijak ice tuh mmg boleh jatuh la. Bahaya. Yg best pasal jalan atas snow ni, the feeling masa kita pijak tuh. Kasut habes la basah kan.
#8
- Enjoying hot steaming coffee
Biasanye before masuk kelas or masuk opis, mmg kena stop dulu la beli coffee for breakfast. Kata winter, pulak tuh kena time snowing, perghhhh... pekena coffee mmg ngam lah!
Bau coffee
pun kalau kita lalu depan kedai2, dah menyelerakan. Time winter la nak cari alasan minum coffee or teh byk2.
#9
- Wearing layered clothes with long jacket,
long boots and scarf
Rindu nye nak pakai lapis2 ni. Baju kat dlm dua tiga lapis, kat luar pakai long kot. Kalau ada boots panjang lagi cun. Scarf mmg kena pakai. Kalau time sejuk beku sampai ke tulang tuh, kena cover leher and telinga. Telinga confirm merah, coz
sejuk
. Bukan takat merah jer, sakit. Mmg RedBerry kena cover.
AND
MOST IMPORTANTLY
*
*
*
*
*
*
*
*
*
*
*
*
*
*
*
*
#10
- Makeup will not "melt off"
This one RedBerry baru discover after pegi oberseas lepas study. Dulu time2 belaja mana la sentuh makeup nih. Pakai bedak Johnson & Johnson and lipstick jer, beb. Skang since dah pandai tempek2 makeup ni, RedBerry dapat beza kan kalau pakai
makeup
kat Msia and kat luar. Ada certain products yg RedBerry boleh guna everytime kat obersea, yg kat Msia mmg tak dapat RedBerry nak pakai. Bukan apa, weather tak sesuai, coz nanti muka RedBerry jadi oily.


That's why RedBerry suka winter and snow!!!
*photos were taken from mr.google.com. Thanks*
Ok la. See ya in my next entry!
Till then.... a bientot! Let it snow!
RedBerry